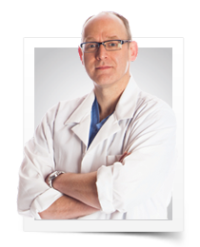 Dr. Michael Dunbar
MD, FRCSC, PhD
Research Director
Locations: QEII Health Sciences Centre
Specialities: Arthroplasty


Dr. Dunbar is a Fellow of The Royal College of Surgeons of Canada, a graduate of Dalhousie Medical School (1992), holds a Ph.D. in Community Health and Epidemiology.
Clinical Data:
2013 − 2014 Patient Visits: 1,833 OR Cases: 245 ER Admissions: 69
2012 − 2013 Patient Visits: 1,878 OR Cases: 250 ER Admissions: 93
2011 − 2012 Patient Visits: 1,818 OR Cases: 270 ER Admissions: 66
Dr. Dunbar is a Professor of Surgery in the Division of Orthopaedics at Dalhousie University with cross appointments to the School of Biomedical Engineering and Department of Community Health and Epidemiology.  As Director of Research for Orthopaedics and an advocate of increasing the precision of surgical techniques, Dr. Dunbar is exploring the use of surgical navigational technologies to improve patient outcomes as well as engineering solutions for surgical challenges. Dr. Dunbar is a premier biomedical researcher in his field, having authored over 80 peer reviewed scientific articles, 9 book chapters, given over 200 invited presentations and lectures and held in excess of $16 million in peer-reviewed research grant funding. A thought leader in knee and hip arthroplasty, Dr. Dunbar is an inventor-consultant for multinational orthopaedics companies and is positioned at the forefront of innovation in his field.